Energy savings drive pilot of disruptive technology in surgical building HVAC system
The following case study was featured in the May 2017 Irhace Magazine as the lead article with a supporting product update profile page. The article features Waikato DHB, using the DCI DeCaIon Device to electro-chemically treat the cooling system scale & the associated benefits & savings.

As the Maintenance and Facilities Engineer at Waikato Hospital, Stefan van Rooij is always on the look-out for energy savings, so when a new cooling system scale management technology caught his attention, he was keen to find out more.

Stefan says he had heard about the electrolytic water treatment technology from a colleague. I'm always looking for energy savings that allow us to keep on improving.  New technology is where the significant energy savings are. On hearing about the DCI technology, I was keen to trial it as there seems to be a lot of benefits in it.  A mechanical engineer, who thrives on providing smart design solutions Stefan was impressed from the outset on the potential hard and soft benefits. We want to reduce power, water and maintenance costs of course but also not having to handle chemicals, risk chemical spills and not having to dump chemicals are all solid benefits too. Maintenance wise there's a lot less involved too. That's why we like it.



Of the 4 water cooled systems on the Hamilton campus the control of RH and temperature for the Kempthorne Surgical building presented the greatest technical challenge. For this reason, the Kempthorne building was chosen as the best site for the trial. We'd been struggling to control humidity in the surgical theatres in the building for some time. The chiller pumps were undersized so we needed to address that, but at the same time, being able to conduct the trial, appealed. If we could combine the pump upgrade with the implementation of the new technology and it ticked all the right boxes, then I was keen to see what benefits we could achieve.

Stefan says the combination of the two has put them in a great position. My understanding was that this new technology would keep our chillers in a new state which translates into significant energy savings, on an annual basis.  What we have seen through the trial is that we don't have degradation which is worth quite a lot to us in terms of energy savings. Add to that the fact that the surgeons say the theatres are now more pleasant than they've been for as long as they can remember. So I would go so far as to say the combination of the upgrade to the chiller pumps and the DCI machine has worked brilliantly.

Gavin Cherrie from 2Plus met with Stefan in 2016 to discuss the new technology and plan the trial. Stefan's role is quite challenging, ensuring that mechanical services are maintained to really good standards so as to provide a world-class working environment for the medical staff, and at the same time, having to reduce the cost of maintaining and operating of those services.

Baseline data was collected from October through to December. The DCI was installed and commissioned on site in December 2016. Shortly afterwards Excel Refrigeration completed the chilled water system upgrade. Performance monitoring continued through to late March with energy, waste and water data being collected.
Promising findings to date from the trial
Gavin says, while the data is now going through full statistical analysis, indicative findings are pleasing. In conventional water treatment systems, we expect to see an annual 15% decline in coefficient of system performance (COSP) due to scale build up. At the Kempthorne site, we have seen a small improvement in COSP over the 3 months of operation of the DCI from an average of 3.23 to 3.50 (fig. 1). This is backed up by a measured 1.5°C reduction in Condenser Approach Temperature and a 2.5 °C reduction in Cooling Tower Approach Temperatures over the duration of the trial. That spells energy savings of better than 10% pa. As the plant has stayed clear of scale only the mandatory cleaning is now required to be done, reducing maintenance costs. Cycles of concentration have increased from 4.5 to 9, so we have halved the blowdown volume saving around 1.5 m3/day, in waste and make up water (fig 2). With no chemical costs, there's another substantial saving.  The total financial benefit equates to a simple payback of well under 3 years on the investment.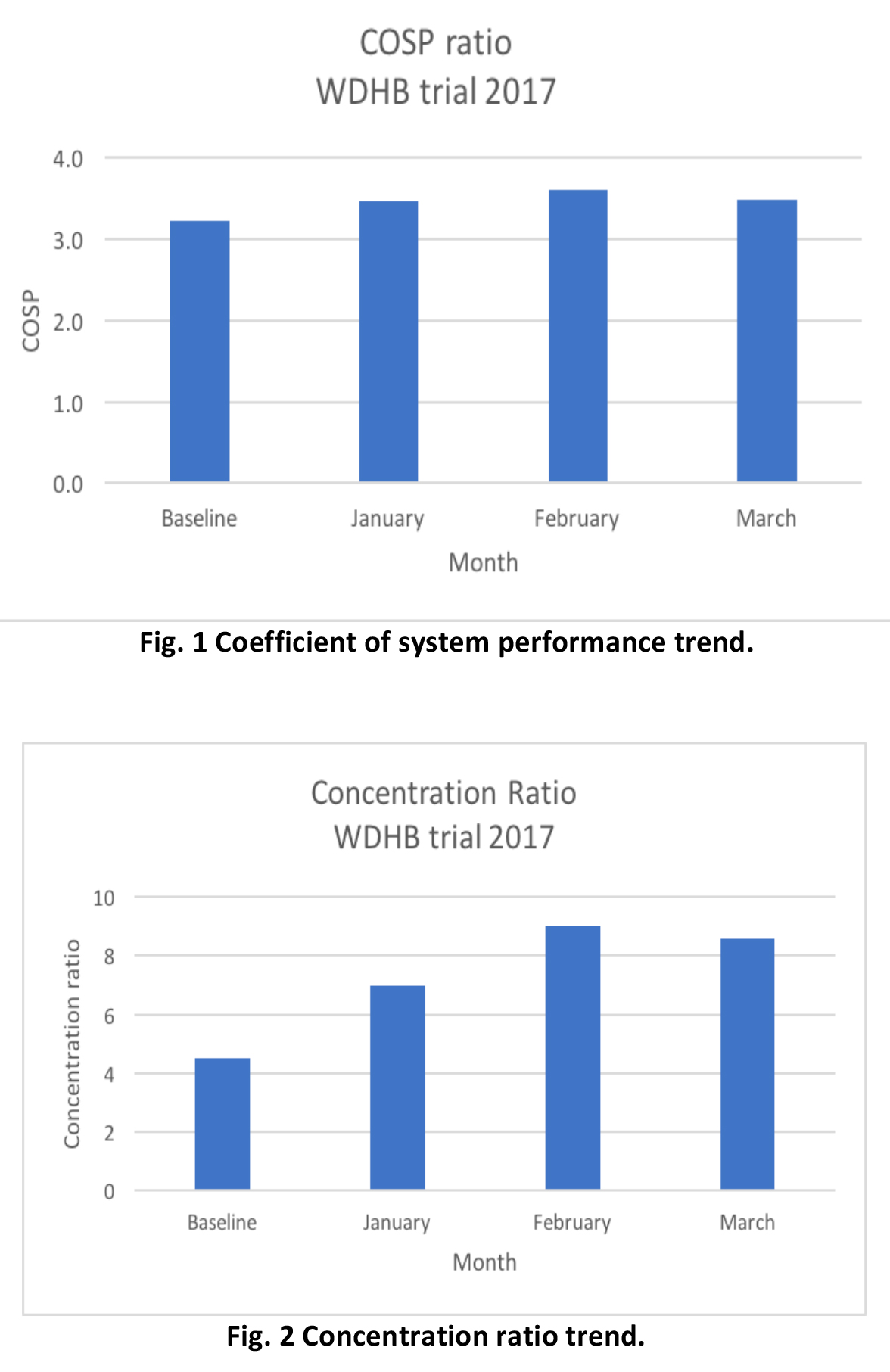 Gavin says the much-improved chilled water system has increased the amount of heat removed from the theatre block. This is being expelled through the cooling towers which are being maintained in near new condition by the DCI. Add to that the fact that the handling of packaged chemicals by staff and contractors on site has been eliminated for the Kempthorne Building which has eliminated safety hazards for chemical exposure and manual handling.
Gavin adds the outcomes are similar to 2Plus findings from an independently monitored trial of the DCI conducted at Lakes District Health Board between November 2015 and March 2016. Rotorua Hospital has four water cooled package chillers supplying water at 6°C to the hospitals HVAC system. Those results were close to what has been achieved at Kempthorne. A 17% reduction in electrical energy requirement across the total system, a 45% saving in water blow-down volume, descaling chemicals were eliminated and carbon emissions were reduced by 27,000kg CO2-e per annum.
2Plus's Andrew Coker says this DCI trial at Waikato Hospital has been exceptionally good for 2Plus, allowing them to put their technology stringently to the test. The fact Waikato Hospital was prepared to trial the new disruptive technology, knowing their need to mitigate risks in the best interests of safety, affirms our strong confidence in the DCI technology to deliver significant financial and environmental benefits. As Maintenance and Facilities engineer at Waikato DHB we were immediately struck by Stefan's drive to seek continuous improvements. He was prepared to trial new disruptive technology. 2Plus has been the beneficiary of that and so has Waikato DHB.
Back at Waikato Hospital Stefan says the partnership to date with 2Plus has been a very positive one. I have worked closely with them on the trial. It has to be right. It's got to work for us if we are to consider it. They know their stuff and are very responsive to deal with. The trial has just concluded and we all need to agree on the data from the findings but indications are certainly good and if it ticks all the boxes, which it looks like it might, then sure I'd be keen to roll it out across the site.
Download pdf case study featured in the May 2017 Irhace Magazine.