Based in the Bay of Plenty, Seeka Limited is a publicly listed fully-integrated orchard to market business. They own and operate seven post-harvest facilities from Kerikeri in Northland, to Te Puke in the Bay of Plenty with capacity to pack more than 450,000 trays of kiwifruit per day. ncluded in their packing facilities, are the Main Road, Katikati, and their KKP site at Maketu.
The challenge
Seeka Limited installed new 1500 kWR ammonia-based chilling systems at their Katikati and Maketu facilities in early 2016. As both facilities are located in rural areas, difficulties were encountered in gaining waste-water ground discharge consents from Bay of Plenty Regional Council, due to planned volume and likely chemical-contamination of the waste-water from chemical additives for preventing scaling and corrosion.
Seeka Limited installed identical 1500 kWR ammonia compressors and evaporative condensers at the two sites. Silica levels in excess of 100 ppm in bore water supplying the condender at the Maketu facility posed an additional challenge to the ongoing efficiency of the cooling system.
Seeka Limited's project engineers, Stratum Consultants, approached 2Plus for a solution. Based on the seasonal cooling demand, 2Plus supplied and installed one DCI-15A unit at each site in April 2016.
The result
Seeka Limited was successful in gaining the required discharge consent based on chemical-free forecast wastewater discharge levels.
Monitored waste-water discharge levels are approximately a quarter of levels expected from a standard solution chemistry-based approach.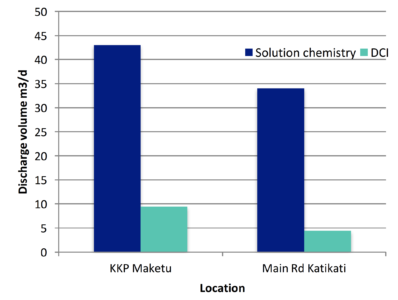 Energy:
Monitoring of tower approach temperature, saturated and gaseous refrigeratant temperatures, recirculation pump speed and compressor head pressures showed no decline in performance of the system over the kiwifruit processing season.
Chemicals:
No descaling or corrosion inhibitor chemicals are being used.
System cleanliness:
After more than six months of operation, there is no scale detectable at the Katikati facility, and minimal scale at Maketu. In the latter case, the extremely high silica level pre-existing in the feed bore water will pose challenges for whatever system is operating. In the case of the DCI system, any existing scale will be cleaned up as the chiller load decreases at the end of the kiwifruit season.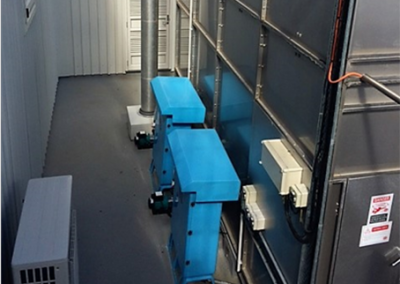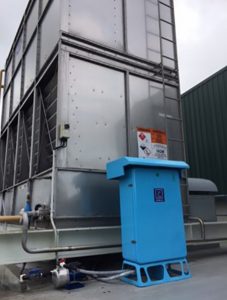 Seeka Limited
Katikati, New Zealand